There are many types of letters in the world we may send them as the old or the traditional way or through online. All types of letters have their own format and reason to send to the second party. Informal letters can be taken care of perfectly but when it comes to writing letters officially we all need to follow some format or rules to make it clear so that the second person or the third person do not have a problem reading what we are trying to explain.
A cover letter is also called a motivating letter it is a letter of introduction that is attached or sent with other documents or your resume before applying for a job. They just give a brief about your works, every doings, what you have achieved and many more. But, it has some format to follow and to make it clear you need to follow some tips and tricks so that the reader gets attracted to your cover letter.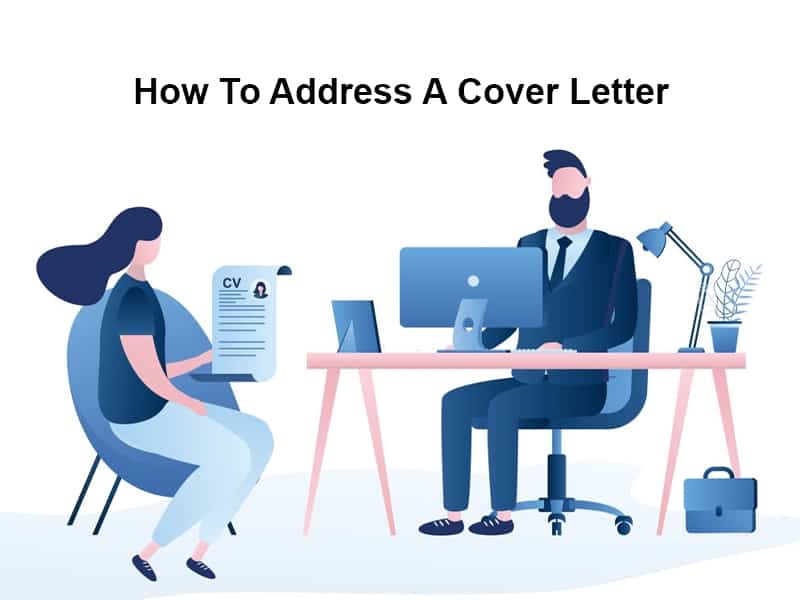 Here Are Some Of The Ways To Address A Cover Letter That Will Interest The Reader
Writing cover letters will surely not be easy if you don't have something interesting in your resume to show. First things first, you need to prove to yourself that you are capable of the job or the position that you are looking for in the organisation. You need to build up your career and gain the experience that you need to make the reader or your interviewer happy and impressed. Also, you don't want to make your first impression a bad and last impression to your interviewer or the reader. So in order to avoid that, there are tips and tricks that you should keep in mind before writing a cover letter. Below are some tips to write a good cover letter:
Choose the right type of cover letter- many of us might not know but, there are several types of cover letters for the job or position you opt for or is willing to do. The traditional cover letters are also known as application letters are written when there are only specific job openings. Opting for the right type of cover letters will not only impress the interviewer or reader but you will also get the benefit of what and how your experiences should be added. In simple, the type you choose should reflect the job that you are applying for, the reason for writing and what exactly are you requesting.
Write short and easy- Do make the cover letter hard to read for the interviewer. They should able to understand and know what type of person are you so make it easy for them. Also, the cover letter should be related to your resume that you attach with it do not go off-topic it should be talking about what you have achieved or your wills in the future nothing other than that. Of course, make sure that you choose a good font size and margin lines to make the letter neat and clean.
Don't make it too long- Nobody likes reading long letters and mostly when it is formal letters. Readers like to read short and simple letters which talks for you to the point of what exactly you want from them. Try to write or complete the cover letter on one page only do not make it go to two or three pages that will be properly inappropriate for you and for the reader as well. The reader might skip parts while reading and we guess you do not want that to happen.
Use a good format- Most of the time while writing a cover letter or any other formal letter we forget or don't use a good format. A proper format with all the instructions and information is what the corporate world needs nothing more or less. Try to go in a flow do not talk about other stuff which is not related to your career or what you are talking about.
Just be yourself and how is your personality- Words speaks a lot about you and the same way your writings speaks a lot of how and what a person could be. Avoid using phrases like 'Dear Madam/Sir/Mrs' these do not make it look professional and it reflects a personality which you are not in the real world. To make a cover letter to the point and professional use straightforward language or writing skills if you don't have that habit learn how to write watch videos online and teach yourself how to do it. Writing straightforward language will surely attract the reader or the interviewer.
How An Introduction Should Be
Introduction to any letter is what should be very catchy and attractive so that the reader develops an interest in reading what you have written. Many times we all go or follow the wrong procedure starting with any formal letter there are some formats that you should go through or the words you should learn in order to have a good introduction. Here are some tips to have a good introduction to your cover letter:
Use attractive words and avoid using 'To Whom It May Concern' and Dear Sir/Ms./Madam- Using such sentences or phrases in the introduction makes the cover letter unattractive. Yes, once they were used but as of today's world, it has been outdated. Instead, you should find out the name of who is hiring you, or the name of the interviewer and address your letter to them. Now, to get the names you should take an initiative to call the company and ask for the right name.
Never mention your position- Please do not start your letter by saying 'I am willing to apply for' in the first lines of your cover letter. Yes, it sounds direct but at the same, it makes the introduction very boring and unattractive. There are several other ways to write in the introduction part of the cover letter. While writing the introduction part of the cover letter just don't forget that you have to be creative.
Mention your knowledge or connection to the company- This is a good thing for someone who will read your cover letter. Mentioning positive things about their company would attract the interviewer or the reader. You should know the mission and vision of your company that you are willing to apply for also if you mention how do you feel about it then we are sure there is no one who is going to stop you from your position in the company.
How A Body Should Be In A Cover Letter?
Here are some tricks and tips to follow for the better body structure of your cover letter:
Do not elongate it- Write everything, in short, do not make it a hard time for the reader to go through a long list of items or pages to turn.
Check the quality of your work- Making it short and to the point does not mean there will be no quality check. At the same time, you need to see how well are you writing the letter he or she should be impressed through your words so make it a good quality work.
Describe your work experience- Do not forget to mention your work experience as it is what you are applying the job for and that is what the reader will take as a priority.
Don't forget to show a little of your personality- There are many other persons whom the company handle the work looking at their qualifications but, showing a little of your personality would reflect you differently towards the company. You should explain that what makes you so interested in the position that you are willing to work for. Please do not use natural language that affects your personality give it a thought and write slowly do not make that in a hurry.
You may demonstrate your experience- Demonstrating your experience of when you had a very hard time doing something would make the reader know you well. It is important for the reader or the interviewer to know what you know and what have you done so that it becomes easier when they are actually interviewing you. You have done your part by knowing them but give a glimpse of yourself of what you have achieved so far and that could benefit the organisation in any way.
Sample Of A Cover Letter
To the Recruiting Manager,

XYZ Ltd., Baker Street, United States Of America

Phone No-XXXXXXXXXX

Email ID-XXXXXXXXXXX

25/06/2021

Application for Human Resource Manager

To Samuel,
Reading through your statement in the XYZ Limited company, I realised that it is so important for the company to make a good working environment. Considering the core value of your company is of great importance to me, hereby I am applying for the position of HR manager as it was advertised on your brochure and website.
I have been working as an HR manager in Himali Limited for the past three years and have gained skills that are exactly required for the position. I have also noticed that a similar kind of work is done here but with great responsibility. My managing work experience has been entitled to dealing with different people and tackling difficult situations.
Through my three years of experience as a manager in the HR department, I have demonstrated an ability to influence others, face difficult situations and handle them, maintain a good team and keeping everyone satisfied. Through my hard work, I have been able to achieve amazing results in such places and was capable of doing anything that was asked from my side.
I am sure given the opportunity from your end I will be a great asset to your company.
Thank You
Regards,
Jimmy Kimmel
Conclusion
Letters are hard to write we must know how to deal with them when you have to write to anyone formally. I hope that the article above will help those in need in some way also please don't forget to share, comment below and leave your precious feedback.
References
One request?
I've put so much effort writing this blog post to provide value to you. It'll be very helpful for me, if you consider sharing it on social media or with your friends/family. SHARING IS ♥️
Sandeep Bhandari is the founder of PrepMyCareer.com website.
I am a full-time professional blogger, a digital marketer, and a trainer. I love anything related to the Web, and I try to learn new technologies every day.
All the team management, content creation, and monetization tasks are handled by me. Together with the team at PrepMyCareer, the aim is to provide useful and engaging content to our readers.