Before getting hired by any company, we have to go through a couple of interview rounds where each round will assess your different skills, strengths, and weaknesses which help companies to decide whether to hire you or not.
The full form of HR is Human Resources. They play an important role in any organization. If we talk about the accountability of their roles then human resource as their name suggests that their job is to find and recruit applicants. In addition, they are given other responsibilities such as conducting investigations, training, conducting employee-benefit programs, setting payroll, etc.
A post like HR has a very wide role to play in any company. There is no limit to the questions asked in the interview. For this, one has to be aware of all the questions related to human resources and the areas of experience related to them. Once you get selected for this post, you will have to go through the following benefits and challenges that follow:
The bright prospectus of the job
The huge salary on offer
Excellent promotions
Scarcity of job openings, so you have to work hard, etc.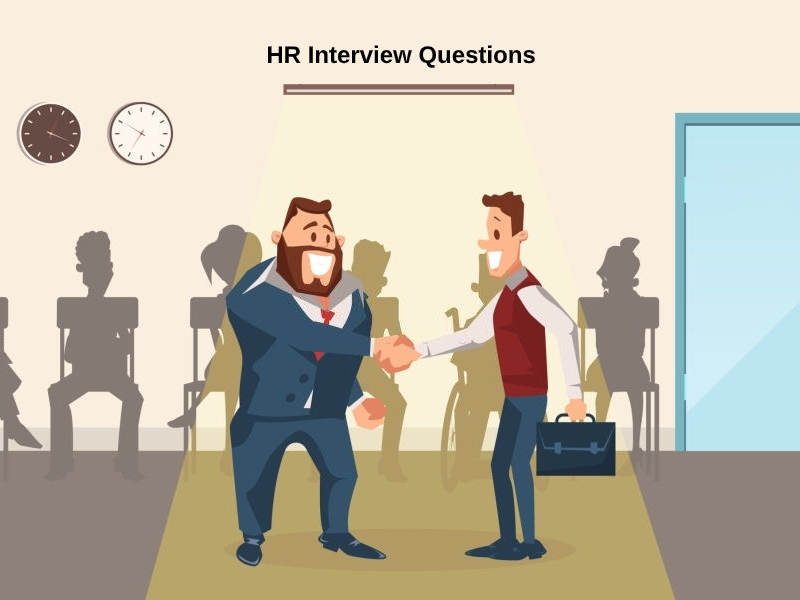 The Top 21 Interview Questions To Prepare Well
1. What is the difference between Selection and Recruitment?
Sample Answer
Under Recruitment, candidates have to go over the multiple interview rounds as per the job description, like for Software Developer role candidate would be going through Coding Round, Technical Interview Round, Personal Round, Managerial Round, etc whereas Selection is selecting candidate without any technical test.
2. What is the difference between Technical Recruiter and HR?
Sample Answer
The technical recruiter's main responsibility is to source and hire the technical professionals for IT companies to fill in the available positions. They are specialized in the hiring process and attract candidates whereas HR's responsibility is to maintain the work-life balance in the organization, compensation review, firing, updating company policies for the benefit of the employee and company.
3. Are you willing to do e-commerce? I see you have been working in the healthcare domain for the last 5 years.
Sample Answer
Yes, I want to move forward in a field like e-commerce. This will give me a chance to learn new things and understand how the e-commerce business works. As I said that I have worked in the healthcare domain for 5 years, my experience was very good, and I got to learn about many things but now I want to explore and start new beginnings.
4. Give me a brief introduction about your qualifications according to your resume.
Sample Answer
I have done a master's in business administration with HR as a specialization from X university, after that, I have worked for a startup in HR where I was a technical writer as well and later switched to a multinational IT company where I have worked as an HR cum technical recruiter
5. Why did you apply for this role?
Sample Answer
There are many reasons to apply for this position. The most important reason is that I have the skills which a company needs and at the same time I will have the opportunity to work with a multinational company where I will get to work with people from different cultures which would enhance my interpersonal skills.
6. What's your experience?
Sample Answer
If I talk about my previous experience, where I had started as a content writer and technical recruiter where I learned how to manage the work and deliver the items without impacting my content writing work. We were a small team and worked under high pressure, however, the overall experience was good.
7. What do you like most about this position?
Sample Answer
The first thing that I liked before applying for this post was that this post was written in a very nice and well-organized manner. In it, the role is depicted in a very good way, which shows about that post. The second best thing is that under this post, you will get a golden opportunity to share your thoughts with others, which is a very good thing for me. Opportunity to work with a team where everyone can express their knowledge and ideas.
8. What's the reason for leaving your previous employer?
Sample Answer
If I talk about my old work, then my old company and team were very helpful to me but recently I felt I'm too comfortable in my current company and not learning new things and as it is said that there is no age limit for learning. I love to learn new things so I'm looking for a change. Learning was an important decision so I took my new job as a challenge that would help me move forward.
9. How much do you know about our company?
Sample Answer
Before applying to this company I had read about it online where it came to know that your company manufactures electronic equipment. I used your brand tool a long time ago and my experience was great. That's why I was even more impressed. The quality of your branded items is very good and durable. Apart from this, your company is growing very fast and its new branches are also opening at different places. All these things impressed me a lot.
10. Are you currently available for this role?
Sample Answer
Yes, I am ready for this position and looking forward to joining immediately.
11. What was your last CTC?
Sample Answer
Earlier my monthly salary was x which was fixed and half-yearly there's a performance bonus that was not part of CTC.
12. What's your salary expectation?
Sample Answer
My salary was average for this type of position in my field and I expect more than that. But I think we should discuss this later. If I am suitable for this post can you tell me what will be the average range of my salary?
13. Do you have any questions?
Sample Answer
I am very excited about this position. Can you tell me the next procedure? I have read about your company online and am very impressed with it. That's why I want to know more about this position.
14. How would you rate yourself in using Microsoft 360?
Sample Answer
I consider myself proficient in using Microsoft 360 where I can work with excel for intermediate level of operation in excel or yammer for interaction, last not but least HRMS payroll tools.
15. What will you do if your boss is not good? How will you handle your role?
Sample Answer
First of all, I would try to understand the personality of my boss and how he/she is. What bothers him/her, what does not he/she like? If I find my boss always cranky then I will try to talk to him/her about the situation, so we can have a healthy work environment and if things do not work out then I would reach out to my boss's boss and explain to him/her about my professional relationship with my boss.
16. Describe any one situation where you are not satisfied with your work performance?
Sample Answer
When I got a new job after college, everything was new for me. For any work, I used to depend on others, which was my weakness and I had to overcome it. I wanted to work independently depending on myself. I made a lot of mistakes in the initial phase but I learned from my mistakes and my team. Later on, I started doing my work by myself and I also got appreciation as an employee of the month.
17. Why should you be hired for this role?
Sample Answer
I am an open-minded person. New things always fascinate me, so I am always motivated to learn them. I am a hard worker. I learn things fast. This would be a great opportunity for me to work with your company and use my skills and theoretical knowledge in the practical world. I assure you that I will give my best and work to my full potential so that I can contribute as much as I can towards the growth and welfare of the company.
18. What according to you is the quality required for an HR position?
Sample Answer
HR should be open-minded. Apart from this, he/she should be flexible, focused, versatile, intuitive, etc.
19. What is management? What is the important role of management in this position?
Sample Answer
Management means bringing determined and precise people to accomplish their set goals and together they accomplish their goals. This means that teamwork is an important part in this which plays an important role. The essential functions to be done under management include planning, organizing, processing, directing, controlling, etc.
20. What technical skills should HR have?
Sample Answer
HR should be comfortable with the HRMS tool for employee payroll, familiar with Microsoft 360 or google suite packages to reform and write new policies for employee and company benefits, decent knowledge of IT professional tools so it would be easy to fill in the technical recruiter's shoes.
21. What will be your working strategy after being an HR employee?
Sample Answer
As an HR employee, my main objective would be to run the business activities smoothly. The scheduled work should be completed on time and all the areas of the candidate should be evaluated at the time of recruitment.
References
One request?
I've put so much effort writing this blog post to provide value to you. It'll be very helpful for me, if you consider sharing it on social media or with your friends/family. SHARING IS ♥️
Sandeep Bhandari is the founder of PrepMyCareer.com website.
I am a full-time professional blogger, a digital marketer, and a trainer. I love anything related to the Web, and I try to learn new technologies every day.
All the team management, content creation, and monetization tasks are handled by me. Together with the team at PrepMyCareer, the aim is to provide useful and engaging content to our readers.