There are big multinational organizations operating across the world inside big office buildings that often qualify in the art infrastructure segment. With rising complicated designs and enhanced levels of architecture, the safety of workplaces or office buildings is even more critical and necessary. The appropriate safety measures in place give a sense of well-being and satisfaction among the employees and promote a healthy working atmosphere. In order to ensure adequate safety at the workplaces, these organizations require the services of a specialized professional known as a Safety manager.
Being a highly coveted and respectable position, a vacancy of a safety manager receives a large number of applications from qualified and interested candidates, thereby making the selection procedure tough and serious. The interview process consists of several questions so as to check your level of understanding, personality, and grip on your core profile.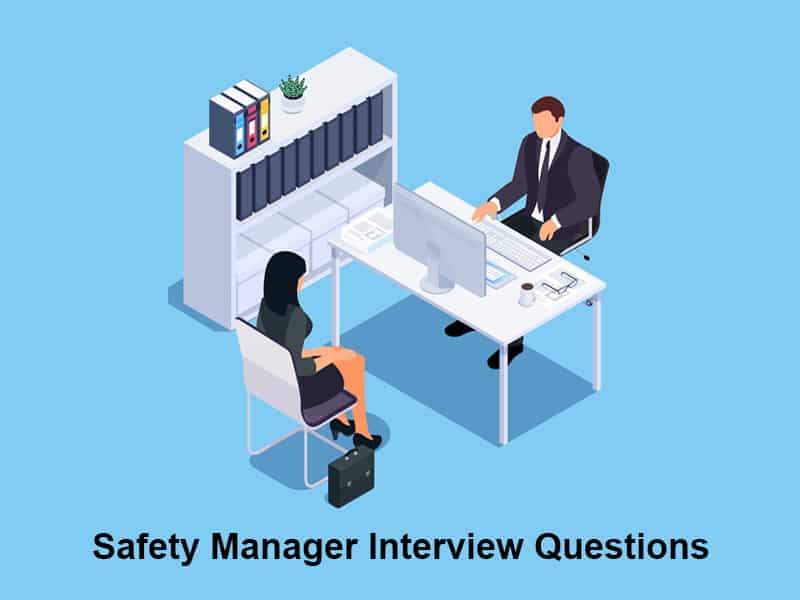 Best 21 Interview Questions To Prepare
1) What Do You Understand By The Term 'Safety'?
This is an important interview question specific to the role of a security manager. This question enables an interviewer to judge your grip on your core profile.
Sample Answer
Sir, it is the most important term in the life of a security manager. Safety can be defined as a situation in which a person feels safe from any possible hazard, disaster, risk, or accident, which has the ability to extend severe losses including loss of life or death. A security manager is responsible to ensure the safety of all the people inside the premises of an office building by ensuring that all the safety measures are proper, just, and appropriate.
2) Explain The Interdependnce Of Risk Upon Injury?
This question tests your analytical ability and your critical thinking skills along with testing your core knowledge related to your profile.
Sample Answer
In order to explain the interdependence, I would first like to explain 'risk' and 'injury' in brief, which I would later link so as to establish a relation between the two. A risk is a potential or the likelihood of any unplanned and unexpected event that can cause severe damage to life, property, and inventory. In case the risk materializes, it leads to injury, which simply means the extent of loss sustained by the affected party o parties. As per the general rule, lower the risk, ower would be the likelihood of sustaining an injury and vice versa.
3) How Will You Handle Criticism For Your Job?
This is a personality evaluating question, wherein responses generated would give a fair idea to your interviewer to judge your approach, body language, and your mindset to handle negative feedback and criticism.
Sample Answer
Handling of critics is an important part of every job. A person can take feedback either way. When taken in a negative manner, it can rob you of your inner peace and mental satisfaction, which eventually would have no benefit upon your skills and knowledge. At the same time, when taken in a positive manner, it can enhance your practical knowledge in a very adorable way. If you ask my personal view, I always take it in a positive manner and would love to improve myself.
4) Tell The Distance From Ground Considered As Height. Further Explain Its Relevance.
This question tests your knowledge and understanding of the practical working procedures.
Sample Answer
Sir, as per the generally accepted rules, any distance above 2 meters from the ground level is deemed to be height. Whenever an employee of the organization or any third party worker works above 2 meters from the ground, he or she is supposed to follow the norms and procedures related to working from a height. This most commonly includes using a tethering belt, helmet, and a safety jacket.
5) Explain Your Knowledge and Understanding Of the Labor Laws?
It is one of the primary duties of a safety manager to handle the compensation claims received by the organization from the kins and relatives of an injured workman. Hence, in order to do so effectively, you must be aware of the latest labor codes and related compensation laws.
Sample Answer
Sir, I am profoundly aware of all the labor laws applicable in our country. I even have the experience of representing organizations in labor courts. In addition to this, I always keep myself aware of the latest judgments extended by the honorable courts in this regard.
6) How Do You Prioritize Your Tasks?
Time-bound completion of tasks is necessary and vital so as to ensure that you are away from the cryptic lenses of the evaluators. In order to do so, you must be able to prioritize effectively. Just share your prioritization technique with your employer.
Sample Answer
In order to effectively prioritize my tasks, I always ensure that I am writing all the tasks that have to be performed by me during the course of the day. The tasks written by me, are then arranged on the basis of the level of difficulty. The most difficult tasks are my top priority and are mentioned in the beginning, only to be followed by the tasks that are least time-consuming. This helps me to finish all my tasks without compromising quality and effectiveness.
7) How Do You Devise A Safety Policy?
This question tests your knowledge and understanding of the practical working procedures.
Sample Answer
Devising a safety policy is one of the most primary duties of a safety manager. The safety policy prepared must cover all the vital elements of safety, like:
Things to be kept in mind while experiening a disaster or hazard
Special actitivites to be done in case if a natural calamity
Special focus on the prriodic audit of the CCTV cameras and Fire detection sensors
Rules to ensure that all the security personnels remain productive and non-complacent, etc.
8) Why You Left Your Previous Job?
This is a tricky question through which an interviewer wants to know of the possible reasons that made you resign from your previous job. There are chances of getting fired too. Whatever the case may be just share a genuine response with your interviewer.
Sample Answer
I would answer this question in the most honest way. My primary reason for leaving my previous job was my feud with my senior. I am always a reticent and peaceful person, but I just can tolerate the exploitation of any manner whatsoever. My work timings were such that I had to work for effectively 8 hours in a day. But, my boss was a very callous person, and he used to force me to extend my working hours by almost 3 hours a day, without offering me any additional compensation or allowance. I was utterly disappointed with such a lack of empathy and resigned from the organization.
9) Can You Handle Work Pressure?
This is a common interview question through which an interviewer wants to know your mindset and approach towards working in a hectic work schedule.
Sample Answer
Yes, sir absolutely. I have the ability and strength to work in a hectic work situation for long hours without taking long breaks. In order to do so, I always maintain my physical fitness by engaging myself in regular yoga and even intense physical workouts for at least 3 days a week. In order to work for long hours, a person must possess a good level of concentration and a superior focus. I always maintain them, by practicing meditation for at least 15 minutes a day on a daily basis.
10) Explain The Importance Of Mock Drills.
This question enables an interviewer to understand your mindset towards taking precautions and pre-planning.
Sample Answer
Life is pretty unpredictable. In a fraction of seconds, we can experience an earthquake, tsunami or god know what natural calamity. Mock drills are a necessary and efficient way so as to ensure that all the employees of the workplace have a prior understanding and knowledge as to how you can deal with a particularly disastrous situation. Persons taking an active part in the mock drills acquire knowledge and skills which make them smart enough to deal with any devastating impact. I always highly rate the mocks and always devise plans so as to involve all the employees in the same.
11) How Do You Conduct A Safety Audit?
This question tests your knowledge and understanding of the practical working procedures.
Sample Answer
A safety audit is necessary, vital, and critical so as to ensure that all the security measures in the office premises are functioning effectively and have not malfunctioned. I always prepare an overview or map, so as to check that there are no issues left to be checked. On the basis of the overview, I prepare a layout, which tells me about the IT as well as security infrastructure in place. Post getting expert knowledge of the same, I conduct an exhaustive security audit by ensuring that all the CCTV cameras, Fire detection equipment, DVR sets, and Wirings are appropriate and are in a perfect state.
12) Differentiate Between Attitude and Self Confidence.
This is a tricky question, that relatively suits to the profile of a safety manager, as generally, people involved in this profession tend to get complacent and take the security measures in place for granted. It is a critical question and demands a thoughtful, logical, and well-strictured answer.
Sample Answer
Sir, in my opinion, there is no difference between attitude and self-confidence. I do not relate attitude with swag or haughtyness, rather as per me, it is the best attribute that a person can get. It can be related to the behavior of a person, and it should be humble and responsive. A safety manager, must never get complacent and always check the effectiveness of the security measures in place. This is the best way to ensure that a person is not getting overconfident.
13) If You Were An Animal What Would You Like To Be?
This is a personality evaluation question that is trending and appears in several interview sessions. Hence, it is necessary that a candidate gives and generates an optimal response to this question.
Sample Answer
In my humble opinion, I would like to be a horse. Horses have a unique ability about themselves, and that is they just never sit. This is symbolic of working continuously and tirelessly towards your ambitions and goals in life. In addition to this, a horse is ever athletic and never refuses a task. The role of a safety manager, commands some similar qualities and attributes. Hence, if given a chance I would ask God to make me a horse.
14) Explain The Importance Of Safety Warnings For Employees Of An Organization.
This is a practical job-related question, that enables an interviewer to understand your viewpoints of drafting as well as complying with the safety rules and procedures.
Sample Answer
The written format is the best format. The power of words can just never be underestimated. Importance of written safety earnings, protocols, and guidelines is of prime importance at a workplace. The written words coupled with graphics and images even make the placard more attractive and engaging. I always value it a lot and upon getting hired, my first task would be to ensure that all the safety guidelines are written in a proper manner with adequate effectiveness.
15) When Can You Start?
This is a common question, through which an interviewer wants to take a quote of your availability. Although an organization prefers immediate starters, you are advised to share the true state of affairs in relation to your availability and presence.
Sample Answer
For Employed Individuals: Sir, I would like to express that I will not be able to start on an immediate basis, as I am currently working with an employer. However, I was pretty desperate for a job change, and have already submitted a notice to them. In all scenarios I would recive my relieving lwetter within 14 days. Hence, I would like to declare after adding two days of buffer that I would be available for joining on or after (___mention the date of your joining___)
For Freshers/Unemployed Individuals: I would like to confirm my availiability as imemdiate, because I am currently not working anywhere and do not have any past liability or obligation to fulfill.
16) What Motivates You To Work?
This is a personality evaluation question wherein an interviewer wants to know your primary reasons for working hard. Just share a genuine response to your interviewer as this a subjective question. There are always a variety of motivational factors that motivates an employee to push their limits largely dependent upon the specific conditions and circumstances. Hence, avoid generic answers at all costs.
Sample Answer
In my honest opinion, my need and urge to earn money always motivate me to work hard and earn a higher salary. This is primarily because I belong to a lower middle-class family with huge responsibilities on my head, I have to feed my family of six, with I being the sole earner in the family. In addition to this, I also desire to get recognition and appreciation for my work. This also motivates me to work even more hard at the workplace and get respect from my fellow mates.
17) How Cost Efficient You Are?
Budgets are always a constraint for business organizations no matter how efficient or effective their profitability situation is. A safety manager must always consider working in a restricted budget and this is what an interviewer expects from you.
Sample Answer
I totally understand the relevance of this question. Be assured, that I am a cost-efficient person and always look to work on a low budget. While securing a place, I always think critically and miserly, as to how I can cover the entire place with CCTV cameras so that the cost of securing is the lowest. Further, IT infrastructure is one of the major items of cost, that really bloats the bill. I always focus on repairing and overhauling, the existing IT infrastructure, instead of replacing the old set every now and then.
18) Explain How Can You Monitor A Civil Work Going Inside An Office Premises?
This is a pragmatic job-related question, which checks your knowledge in relation to practical working procedures.
Sample Answer
Organizations strive to provide a perfect and optimal work experience to their employees, which is possible only when there is the existence of a state of the art infrastructure. In order to maintain the efficiency level, there are constant addition and alteration works going on inside the premises. My primary role would be to ensure that the construction workers have a safe place to work and live, along with the availability of a proper dumping ground for construction meaterials. In addition to this, I would change the entry and exit points of the regular employees so as to ensure that they are safe from possible mishapennings.
19) What Are Your Major Strengths?
This is a common interview question that enables an interviewer to know your self-awareness and self-awareness. In order to effectively answer this question, you are advised to prepare a written report of your major strengths and then prepare at least two of your most closely related strengths.
Sample Answer
Sir, In my humble opinion, I have the ability to work for long hours without any break, This gives me the strength of perseverance. I just always focus on my work and never distract my attention and concentration by focusing on trivial issues or petty office politics. Further, I have effective communication skills and I am always willing to contribute to my organization with my fluency in speech.
20) Why You Chose Us?
This question tests your seriousness and commitment towards the organization you sought to work with.
Sample Answer
Being an organization with an impressive growth rate, the lowest employee attrition rate, and offices spread in the entire nation, I am looking no further, I just want to be a part of such a valuable institution. Further, the salary offered by the company to its employees is lucrative and the additional benefits offered are really attractive. This further entices me to join this esteemed organization and contribute with all my skills, knowledge, and experience.
21) Do You have Any Questions For Us?
It is a common habit of interviewers to conclude an interview session through this question. This question gives a chance to a candidate to ask a few questions from the interviewer which are related to the organization, the job profile, duties to be performed, etc. A candidate must frame at least two to three meaningful questions to be asked from the interviewer. Skipping this question can prove fatal your selection chances as that would seem either you are underprepared or not serious for the organization.
Sample Questions
What are the work timings of the organization?
What are the various health benefits offered by the organization to its employees?
What are the organizations' rules to ensure that a conducive work atmosphere remains in place?
What are the various duties to be eprformed by me apart from those mentioned in the job description issued?
Please explain the procudure to calculate paid leaves offered by the organization to its employees.
Download the list of questions in .PDF format, to practice with them later, or to use them on your interview template (for Safety Manager interviews):
References
One request?
I've put so much effort writing this blog post to provide value to you. It'll be very helpful for me, if you consider sharing it on social media or with your friends/family. SHARING IS ♥️
Sandeep Bhandari is the founder of PrepMyCareer.com website.
I am a full-time professional blogger, a digital marketer, and a trainer. I love anything related to the Web, and I try to learn new technologies every day.
All the team management, content creation, and monetization tasks are handled by me. Together with the team at PrepMyCareer, the aim is to provide useful and engaging content to our readers.