Doing a part-time job not only utilities your idle time in a productive way but also enables you to earn some quick and decent bucks. Thanks to technology and a rising number of startups, these jobs are available in plenty and often easy to find if one is aware of the various methods of getting one. Students, housewives, freelancers, and even self-employed business persons having an idle time frame can engage themselves in these wonderful money-earning short-term job opportunities.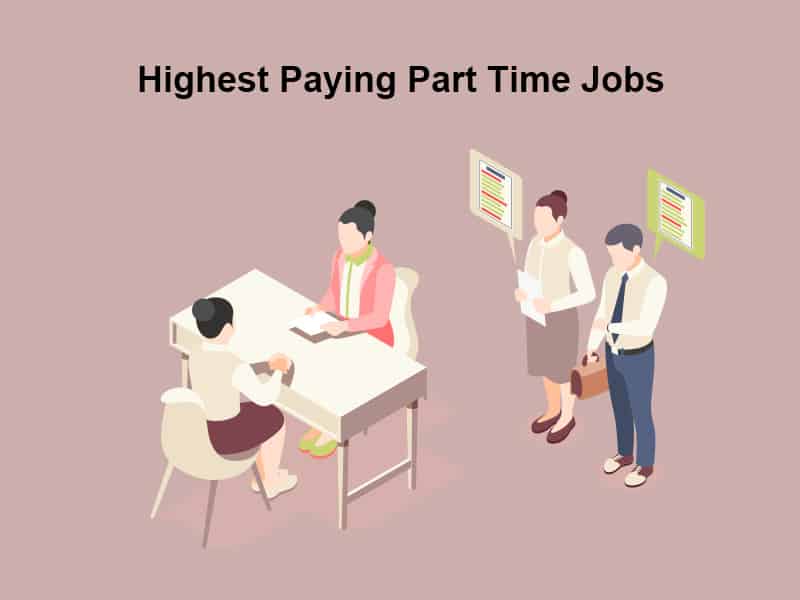 Three Most Effective Ways To Find A Part Time Job
There are several ways to find a part time job that suits your interests and is relevant to your skill set and/or education. Some of the best ways are:
1) Online Job Portals
There are various online websites that enable an employer to advertise their vacancy. You can create an informative resume, upload it on these job portals and start applying to part-time jobs. If you have good academic skills and relevant work experience you would easily find your new employment opportunity. Whereas one must keep patience if one is not able to get employment based on his or her needs or interests.
2) Follow Newspapers
Employers also prefer to share their vacancies by placing an advertisement in newspapers, magazines, or any other printed material. One must follow a regular and prominent newspaper in order to keep oneself abreast of all the latest part-time job opportunities. The prospective employers usually share their official email address, on which the resumes must be shared for the purposes of perusal and consideration.
3) Through Contacts
If you have any relative or friend working for any corporate then just contact him or her. Tell them about your requirement for a part-time job along with the area or field in which you are searching for a job. Usually, your contacts forward the information to the HR manager of the company. Going through a reference makes your application even more effective and increases your chances of getting selected, in case there is a matching vacancy.
Latest 15 Part-Time Jobs
1) Part-Time Bookkeeper
There are several young organizations and startups, the operations of which have not reached great heights and they are still in the budding phase. They often need an accountant to look after their limited financial and compliance needs. If you have relevant education and skills then you can apply for them. The work is usually for a maximum of 3 to 4 hours a day and a part-time bookkeeper is usually employed for a fixed salary.
2) Dance Trainer
Dance institutes are in vogue. There has been a considerable increase in demand to learn dancing skills in recent times. Be it a young kid of 7-8 years or a mature adult of 30-40 years, it seems everyone wants to learn various forms of dance. If you are aware of a few moves and believe you have the ability to teach then go hurriedly and dispatch your part-time job application. Usually, a fixed compensation is awarded.
3) Content Writing
There are so many bloggers and informative websites, that require efficient writers to write blogs and articles on various niches such as:
Finance
Technology
Travel and tourism
Health
Medical
Art of living, etc
Just find the niche you are most comfortable writing on and start searching for the job opportunities. The pay is usually variable and is based on per article or blog written.
4) Anchoring
If you possess active communication skills, a pleasant personality, and are aware of the various ebbs and flows involved in effective communication and speech, you are in for the role of an anchor. There are several parties ranging from business functions to marriage parties, which require an anchor to host their event. If you are interested in doing such a role, then forward your application to the nearest event management company. People with adorable personalities and speech-making abilities are usually selected for this prominent role.
5) Work With Ed-Tech companies
With the advent of technology, gone are the days when students used to visit coaching centers for tutions or homework help. Now everything is available online in abundance. It is quite a wonder that the demand doesn't seem to stop, rather it is evolving at a rapid pace. If you have relevant skills and interests and want to be a part of this growing industry then just start applying. That pay can be fixed or a combination of both fixed and variable components.
6) Psychologist
There are many people all around the world facing stress, depression and anxiety. Unable to control these emotions, they usually fall into a deep pitfall and require immediate assistance of psychologists. If you have relevant skills, than opting for a few counselling sessions every day is not a bad idea. You would mostly be paid on the basis of per hour of counselling conducted.
7) Phlebotomist
With the rising demand for tests and diagnosis, the demand for a phlebotomist is huge. He or she is usually required to eke out blood by puncturing the veins of the patient. It requires a moderate level of skills and precision. If you are a midwifery student and have relevant knowledge, then opting for a part-time role at your nearest diagnostic center could be an effective decision. The pay is usually fixed.
8) Work With An NGO
There are various well-established non-governmental organizations engaged in providing succor and relief to the distressed and poor people. They often engage paid professionals and workforce to give effect to a smooth flow of operations as well as generate support funds. If you have the ability to manage and convince, then working for an NGO and doing social service is a great idea. The pay is usually low coupled with limited working hours.
9) Babysitter
This role is most suited to young ladies and women in their early 30s. The primary role is to manage a toddler, when his or her parents are out or not available to attend to their child. This role requires great discipline and patience. Often babysitters earn on a per-hour basis. The compensation is usually lucrative and attractive.
10) Gym-Trainer
If you have an impressive physique with developed biceps and excellent knowledge of the various aspects of physical education then joining your nearest gym as a trainer, is an excellent idea. You would not only earn a decent salary, for working 3 to 4 hours a day but would also get a free gym to work out at. So hurry, what are you waiting for.
11) Massager
With an abundance of demand and consistently growing requirements for spa and message-related activities, one having related interests and activities can join their nearest therapy centers. The pay is usually good and paid on the basis of per client attended. You can have decent control over the working hours too.
12) Waiter/Steward
Be it any occasion, a success party to a marriage ceremony, everything is celebrated nowadays with pomp and show. Event management companies are often tasked to make the experience memorable and they need stewards or waiters in a quest to achieve this. The role is simply to serve food and entertain guests by giving them a warm reception. The pay is usually variable and paid on the basis of every event attended.
13) Actor
You love acting. You want to be a stage artist or You simply adore and idolize entertainment celebrities then acting is a profession for you to pounce upon. The scope of acting is not only limited to movies and Television series nowadays but extended to even YouTube videos, web series, and various other digital platforms. The pay is usually variable and mostly depends upon your talent and personality.
14) Voiceover Artist
With a steady rise in demand for audio-related products such as academic podcasts, digital news reading, and audiobooks, the scope of voice-over artists nowadays is huge. If you have talent and the ability to create effective audio pieces, then this is the right job for you. The pay is usually variable and an artist is paid on the basis of per recording or assignment completed satisfactorily.
15) Delivery Service
With the rising no. of e-commerce companies as well as food ordering companies, it won't be wrong to say that the scope for making errands to deliver the goods or parcels is at its peak. Such is the demand for delivery executives that there is always a requirement for them in related companies. If you have a two-wheeler and interested in delivering goods then forward your complete resume to e-commerce companies. The pay is usually a combination of both fixed and variable components, with additional incentives also awarded on delivery targets achieved.
Conclusion
Sitting idle at home without challenging your mind or not engaging yourself in skill-based jobs, would make you dull and flat. The level of your wit and sharpness can decrease considerably, hurting your future prospects. Doing part-time jobs allows you to be more productive and disciplined along with earning decent sums of money. If you like our articles then don't forget to share them with your family and friends. Also, do let us know through the comments section below, how much you like our articles.
References
One request?
I've put so much effort writing this blog post to provide value to you. It'll be very helpful for me, if you consider sharing it on social media or with your friends/family. SHARING IS ♥️
Sandeep Bhandari is the founder of PrepMyCareer.com website.
I am a full-time professional blogger, a digital marketer, and a trainer. I love anything related to the Web, and I try to learn new technologies every day.
All the team management, content creation, and monetization tasks are handled by me. Together with the team at PrepMyCareer, the aim is to provide useful and engaging content to our readers.