In this era of globalization and rising business magnates, with loads of opportunities on offer, we often find candidates both freshers and experienced on the lookout for jobs that suits their style, educational background, and ambitions. Usually, all the jobs nowadays, hire candidates after following an interview process. The higher the position applied for, the tougher is the recruitment processes. Hence, a candidate must prepare for his job interview seriously and take help from the self-help articles available online.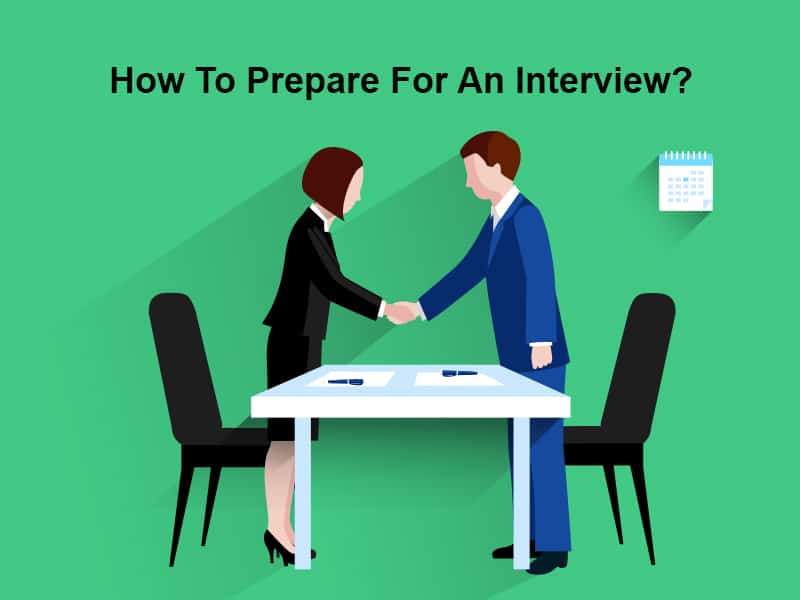 20 Best Ways To Prepare For An Interview
1) Prepare Your Introduction Thoroughly
The first question, that you would most probably encounter, would want you to tell the interviewer something about yourself. This would be your first chance to impress an interviewer and hence this opportunity must be seized to perfection. A typical answer to this question would include:
Your complete name
Place of your residence
Educational institutions attended by you
Companies you have worked for.
2) Prepare A Report Containing Your Strengths and Weaknesses
It is highly likely, that an interviewer will ask about your strengths and weaknesses. Some might feel, that this is an easy question and needs little to no preparation. But, responding with common and frequently used strengths and weaknesses might ruin your chances of selection.
Hence, it is always advisable to conduct a self-evaluation and prepare a written report containing your strengths and weaknesses. Pick at least three and couple them with some real-life scenarios.
3) A Careful Scrutiny Of Job Description
It is a common practice of interviewers to ask questions from the job description provided by them. Missing this step could be adverse and might deplete your selection chances. Always look for the following while studying job description:
Duties to be performed
Requirements of the job
Skills required
Whether the job is full time or part-time
Whether the job is Work from office or Work from home
4) Inspect A Company's Website and Other Professional Profiles
In this world full of scams and frauds, it always advisable to have a complete knowledge about the organisation's:
Registered headquarter
No. of Employees working in the organization
No. of branches
Tax Registration numbers
Official phone numbers
Press releases made by the company
Latest news and information related to the company
5) Prepare For The Question, 'Why Should We Hire You?'
It is a very common question asked by the interviewers in order to evaluate a candidate's attitude towards himself. The best way to respond is to give an impression that you are the best match to the vacancy advertised by the company. Your convincing skills will play a crucial role, while answering this question.
6) Revise Your Resume
While preparing our resume, we always mention, our skills and objectives. It is a common practice of interviewers to pick any of your mentioned skill and shoot a few practical questions from it.
For Example, If you are applying for the job of an accountant, and you have mentioned that, you are aware of the accounting software, Busy, than be ready to face a few parctical queations related to it, such as:
How do create a balance sheet in Busy?
What is the shortcut to add vouchers in Busy?
What is the best way, to generate tax reports in Busy?
7) Conduct A Proper Survey To Analyze Salary Trends
Employers usually want you to tell them about your salary expectations. Saying any figure randomly and arbitrarily is not wise and you may lose out on your crucial job opportunity. Hence, it is always advisable to conduct a proper analysis and survey of the latest salary offered in a similar job profile in a similar industry. You can use online websites and newspapers as a source.
8) Prepare An Account On The Latest Virtual Meeting Softwares
It is highly likely that all your interviews would be conducted virtually via software such as Microsoft Teams, Zoom, Google meet, Slack, etc. Hence, prepare an account and register yourself on them instead of doing the same during the interview.
9) Prepare Current Affairs
An employer always evaluates your level of awareness and alertness in relation to:
Latest happenings related to the company
Latest happenings in the industry to which the company belongs
The events happening around your place of residence
Hence, always prepare the same through news articles. Having even a prima facie knowledge would suffice.
10) Always Be Flexible
You can always encounter a situation in which, the compensation offered by the company is a bit low than your expectation. It has been observed that candidates leave the job offer, for trivial differences in the salary offered and expected. But it is highly recommended to control your ego and just accept the job offer, ignoring the paltry difference.
11) Check Out What Previous or Current Employees Have To Say
It is always advisable to check from online sources, what ex or current employees have to say about the organisation. Their answers can provide valuable information regarding:
The work culture
Promotional aspects
Job timings etc
12) Ensure That You Have A Proper Internet Connection
All the happenings and events take place online. It is better to ensure, that you have a stable internet connection, in order to ensure a seamless and smooth interview process. An interrupting interview due to disturbances created by slow speed internet could be annoying and would not be liked by your interviewer.
13) Become Aware Of Company's Achievements
It is a common practice of employers to ask questions such as, 'Why did you apply with us?' Through this question, an employer wants to evaluate your seriousness towards the organization. In order to respond to these questions perfectly, browse the company's website and note down all the unique achievements made by the company. This will give you a clear motive for joining the organization and the same can be shared with your interviewer.
14) Prepare Your Dress, The Previous Night
A professional look with proper business suit and tie is admired by everyone and that includes your interviewer too. Make sure your dress is ironed and has no stains. Wearing an improper dress might leave an impression, that you don't value yourself and lacks confidence.
15) Prepare Some Questions For Your Employer
In almost all the interviews happening around the globe, it is a common habit of interviewers to ask,' Do you have any questions for us?' Leaving this question unanswered leaves an impression that you were not attentive and engaged during the interview process. Hence, prepare some questions for your employer beforehand and in case you are able to frame some questions during the course of the interview, that would be great either.
16) Always Maintain An Eye Contact With The Interviewer
A candidate appearing for the interview must always respond while looking in the eyes of the interviewer and must not look above, below, or towards the entry gate. Good eye contact shows that you have prepared well for the interview and are confident enough of clearing it.
17) Don't Be Too Straight Forward
Being honest is always a good virtue but do not get carried away and tell your interviewer a long list of your weaknesses unless asked. Even when asked, tell them a few common weaknesses, instead of getting too personal or emotional.
18) Always Prepare Your Core Profile Extensively
You must possess a superior knowledge of your work profile. There would be multiple questions designed by the interviewer in order to check your understanding of your core subject. Hence, just go back to your college notes and brush up your trade.
19) Prepare A List Of Things You Must Carry
It is always beneficial to be aware of the things to be carried while attending an interview. This includes:
Documents pertaining to educational certificates and extracurricular activities
Photographs
Resume
Glue
Pen etc
20) Kill Your Stress
It is absolutely normal to be nervous and anxious while going to attend an interview. The employers are aware of the same and usually help you to de-stress. Further on your part you can perform a few practices such as:
Deep breathing
Powerful self talk
Meditation
Not using any substance related to alcohol, tobacco, or nicotine before an interview
Conclusion
Preparing for an interview is a demanding process just like qualifying in your most difficult subject. It requires a considerable amount of time and energy to prepare your body language and presentation skills. But nothing is impossible and people have always achieved great heights by setting clear ambitions and finding out ways to achieve them. If you like our articles then don't forget to share them with your family and friends. Also, do let us know through the comments section below, how much you like or article.
References
One request?
I've put so much effort writing this blog post to provide value to you. It'll be very helpful for me, if you consider sharing it on social media or with your friends/family. SHARING IS ♥️
Sandeep Bhandari is the founder of PrepMyCareer.com website.
I am a full-time professional blogger, a digital marketer, and a trainer. I love anything related to the Web, and I try to learn new technologies every day.
All the team management, content creation, and monetization tasks are handled by me. Together with the team at PrepMyCareer, the aim is to provide useful and engaging content to our readers.