Work helps to place food on the table, cover our bills, and fund our ambitions. It aids in the development of abilities and the formation of professional relationships. Many people's occupations give them a sense of pride, significance, or meaning. What will happen when work processes are disturbed, postponed, or completely stopped? Many undesired things can happen, as millions of workers throughout the world discover.
Thankfully, online employment boards and professional websites help us find the employment we want much simpler. Furthermore, online education and skills certification systems can assist us in ensuring that we are qualified for the jobs we desire.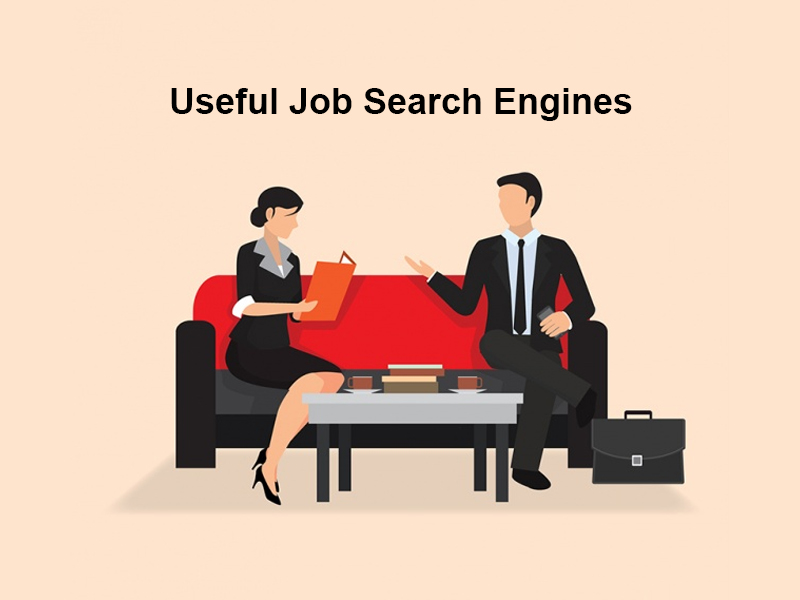 Top 21 Useful Job Search Engines to Find the Best Job
1. LinkedIn
LinkedIn allows us to communicate with businesses, thought leaders, potential customers, similar professionals, and future employers, among many other things. A comprehensive LinkedIn profile currently works as an always-on, easily available portfolio.
While LinkedIn is largely a social media site, it also includes a jobs page with handy features and filtering for applying for corporate job openings, consultancy engagements, and other forms of jobs.
2.Glassdoor
Glassdoor is a renowned portal that publishes studies on full resolution and corporate culture as well as hosting employer feedback. This site assists job seekers in determining whether or not a potential company is a suitable fit based on actual feedback from current and past employees.
Industry experts and regulators rely heavily on Glassdoor's Best Places to Work Survey and other periodicals. Glassdoor also has a powerful job search engine with various filters, including keywords connected to a specific career, firm, and area.
3.Indeed
This site may be the ultimate online job-search engine, with the most comprehensive range of criteria in its category Keyword, Salary Expectation, Job Type, Place, Corporation, etc. Indeed collects job advertisement data from numerous sources, including employment agencies sites, job postings, newspaper advertisements, recruiting agencies, etc.
Indeed is a job-search website based in the United States with listings from all over the world. It has local offices in 60 nations and is accessible in more than twenty languages. Users may set up an account, upload resumes, and seek the desired employment.
4.Monster
Monster is a worldwide recruitment website that allows recruiters to publish job adverts and job applicants to submit resumes. It has been in business since 1994. Applicants can search for jobs based on their location, amount of experience, business, role, organization type, ideal wage range, and other criteria. Resume assistance, career advice, and other tools are also available on the website.
5.CareerBuilder
CareerBuilder is much more than simply a job-hunting website, as its name implies. Career guidance, learning materials, talent acquisition tools, recruitment solutions, business analytics, and an AI-powered portfolio tool are also available.
CareerBuilder has been active for almost two decades and operates one of the largest job portals. Its search feature includes a variety of filters such as income range, job description, and area.
6.SimplyHired
SimplyHired has won many awards for its outstanding performance as an employment portal. With a significant following of employers and job searchers. It is a sibling company of Indeed.com. It offers job postings from over 700,000 different recruiters, as well as search suggestions, resume writing and storage, and a salary calculator.
7.Robert Half
Robert Half has a variety of business areas, but it is best known for its human resource advisory services. Robert Half is a part of the S&P 500 and is recognized as being the originator and largest participant in finance and accounting hiring.
It has 345 sites across the globe and provides risk advisory and audit solutions. Over time, its employment division has developed a powerful job search system that rivals the finest in the industry.
8.ZipRecruiter
ZipRecruiter, which was founded in 2010, enables you to establish an online profile that is then matched with thousands of open jobs on its employment board. With the creation of an artificial intelligence-focused R&D center in Israel in 2019, the efficiency of its seeker-to-job match engine improved significantly.
9. Snagajob
Snagajob is a job-search website that updates its jobs posted every hour. Snagajob was founded in 2010 to help companies, but it also offers a variety of products to job seekers. Users can quickly build accounts and apply for open positions on the website with only a few clicks.
Snagajob employs emerging algorithms to tell site visitors about the job that is in demand and makes it simple for applicants to monitor their submissions.
10.Google for Jobs
Google's search engine will trigger the job postings component of the search engine to activate and list relevant jobs nearby. This will assist you in locating employment and sites that are specific to your location.
The page will display a layout similar to that of traditional job sites, with criteria such as Field Of employment, Job Title, Place, Published Date, Job Type, and Company Name for the applicant to use. Google extracts job postings from other sites using AI, computer intelligence, and APIs
11.Dice
This job portal, which is regarded as the finest and largest in its field, caters largely to information technology and technical experts. On a particular day, Dice is said to post roughly a hundred thousand job openings. Its yearly Salary Report is a much-anticipated release in the technology industry.
12. CollegeRecruiter
The portal, as its name implies, focuses on students and recent graduates by advertising apprenticeships and entry-level opportunities available in various places. You can use the facility to obtain hands-on experience and a foothold in the workforce
13.Idealist
If you're interested in working for movements, advocacies, or charities, go to idealist.org to locate a position. This site has a detailed list of the full-time, intern, and volunteer opportunities in the charity sector. Idealist is a wonderful venue for connecting with all other cause-oriented individuals if you wish to help combat poverty, peace, or environmental challenges.
14. GitHub Jobs
GitHub is largely used by software engineers and designers as a safe source-code hosting and version management platform. Every professional programmer, software designing team, and technology firm has a profile on the site.
For the audience, GitHub created a job-hunting tool that can be filtered by title, ability, computer program, organizations, region, and even perks.
15.We Work Remotely
This website promises to be the largest remote work network in the world. With over 2.5 million monthly visits and hundreds of online job postings on any single day, the promise could be true.
Almost any talent (e.g., computer coding, engineering, etc.) and position (team leader, senior associate, etc.) can be accomplished from anywhere using the platform.
16.Working Nomads
If you want well-managed job listings, search no more. Working Nomads features the most user-friendly interface and the finest hand-picked remote job listings on the internet. Simply find the appropriate job/skill type from the drop-down menu, and the website will create the online jobs you're searching for.
17.TopTal
TopTal is the website for you if you have good technical abilities and like to work in your conditions instead of working in a company atmosphere. Only the best 3% of software designers and engineers are hired by this talent marketplace, which evaluates their applicants.
It gives you the best opportunity to engage with major clients like Pfizer and JPMorgan, as well as earn substantially more money than the majority of your colleagues outside.
18.Company Career Pages
If you're concerned about branding, culture, and corporate status, checking out the career pages of companies you admire is a good idea. The majority of companies list job openings on their careers pages.
You may also get business news and job recruiting updates by following your favorite organizations on social networking sites.
19.GoSkills
GoSkills Jobs necessitate the use of skills to be completed. And if you value professional greatness, you must develop the necessary skills and become an expert in your field.
GoSkills is a web-based education system that offers bite-sized training on topics such as office efficiency, management, creativity, project planning, and more. GoSkills offers credentials that can assist your job applications to shine out, thanks to honors and recognitions from major industry groups.
20.Upwork
Clients can use Upwork's website to evaluate, hire, and collaborate with freelancers and freelancing agencies. The client describes their project and the price point they are prepared to pay for it to be completed by a freelancer.
The customer may ask certain freelancers to compete for particular jobs, or the job may be posted for every freelancer to compete. Once the customer has decided whoever they want to perform the job, they employ that freelancer by providing an agreement that includes fixed hours, a rate of pay, and a timeframe for the project to be finished.
21. HigherEdJobs
HigherEdJobs is the most comprehensive source of academic job and employment information. HigherEdJobs is used by more state institutions to hire professors and management than any other resource.
And over 1.5 million higher educational workers access this site every month, relying on not just the extensive job listings, but mainly for our information and career guidance.
References
One request?
I've put so much effort writing this blog post to provide value to you. It'll be very helpful for me, if you consider sharing it on social media or with your friends/family. SHARING IS ♥️
Sandeep Bhandari is the founder of PrepMyCareer.com website.
I am a full-time professional blogger, a digital marketer, and a trainer. I love anything related to the Web, and I try to learn new technologies every day.
All the team management, content creation, and monetization tasks are handled by me. Together with the team at PrepMyCareer, the aim is to provide useful and engaging content to our readers.